The doors have opened on a new biodigester in Wiltshire, UK following 12 months of construction and trails.

The anaerobic digester plant is, after trialling feedstocks for around four weeks, now fully operational and located at Bore Hill Farm.
'We have now moved into the main building and the technology providers have completed all their pre-start testing work,' says director Thomas Minter. 'The end of the construction phase is a major milestone and having an operational plant to show after a year's hard work by many local contractors is very rewarding.'
Minter adds that rotation tests and systems assessments were run following the powering up of the electrical systems for about a month. The combined heat and power generator has also been installed and commissioned and the initial seeding process has been completed.
The plant will look to process 17,000 tonnes of food waste a year and produce around 500KW of electricity for the national grid. It will receive bulk feedstock from both commercial and municipal sources, including local businesses like schools, pubs and restaurants.
Minter believes it will take up to six months to get the plant up to full speed based on biology growth and the completion of operational milestones: 'It is important that we build a stable and robust process to ensure this is one of the best running plants around.'
The biodigester represents Wiltshire's first green biogas plant and it secured £5 million ($7.7 million) in loan funding from Clydesdale Bank and the Waste and Resource Action Programme, as part of the government's £10 million loan fund for anaerobic digester projects.
Source: http://www.bioenergy-news.com
More information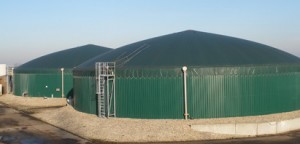 If you want more information on biogas production, please contact Holland Biomass 4 Energy Solutions. We support our customers in every phase of a biogas project, from orientation to exploitation, for (turn-key) installations on a farm scale and larger.